Automatically split streaming royalties with collaborators
UnitedMasters makes it easy to create royalty splits with your team. Sign up for SELECT to get started with Split Pay.
We know that keeping track of finances as an independent artist can be difficult to maintain, so we've made it easier for artists to pay their teams.


UnitedMasters SELECT artists can now automatically split royalties with collaborators on any track that they distribute. Split Pay is not only for featured artists, it also can be used to empower your team -- you can add your manager, producer, or even influencers who help promote your music.


Split Pay is easy to use: simply add your collaborator's email to any track that you distribute and we'll send them an invite to sign up and start receiving their share.


We keep track of all the streams so that you can focus on creating music and building your business.
How To Split Royalties with UnitedMasters
Automatically Split Royalties
After the collaborators accept the invitation & connect their accounts, UnitedMasters will automatically split the royalties according to the percentages set for each collaborator. Earnings can then be monitored within their UnitedMasters dashboard.
Sign up for UnitedMasters SELECT and create your artist profile to start distributing unlimited music worldwide. Collaborators will need to do the same in order to receive royalty splits.
Once your release has been approved, select the track and invite your collaborators by entering their email addresses. Set the percentage of royalties each collaborator will receive.
The Easiest Way To

Pay Collaborators
With SELECT, you can automatically split royalties with your collaborators on any track you release. Get started with a free trial.
"As a genre bending artist, I love to collaborate with people who challenge me to think outside the box with my sound. For my track 'Work Till The Morning,' I collaborated with my friend Lexie Hayden to make a country and hip-hop infused single, and it took off! UnitedMasters makes the collab process super easy from start to finish, and I can even split royalty payments for the track directly in the app."
—Amira, UnitedMasters SELECT
POWERFUL TOOLS TO HELP YOU PROMOTE
YOUR MUSIC &
GROW YOUR FANBASE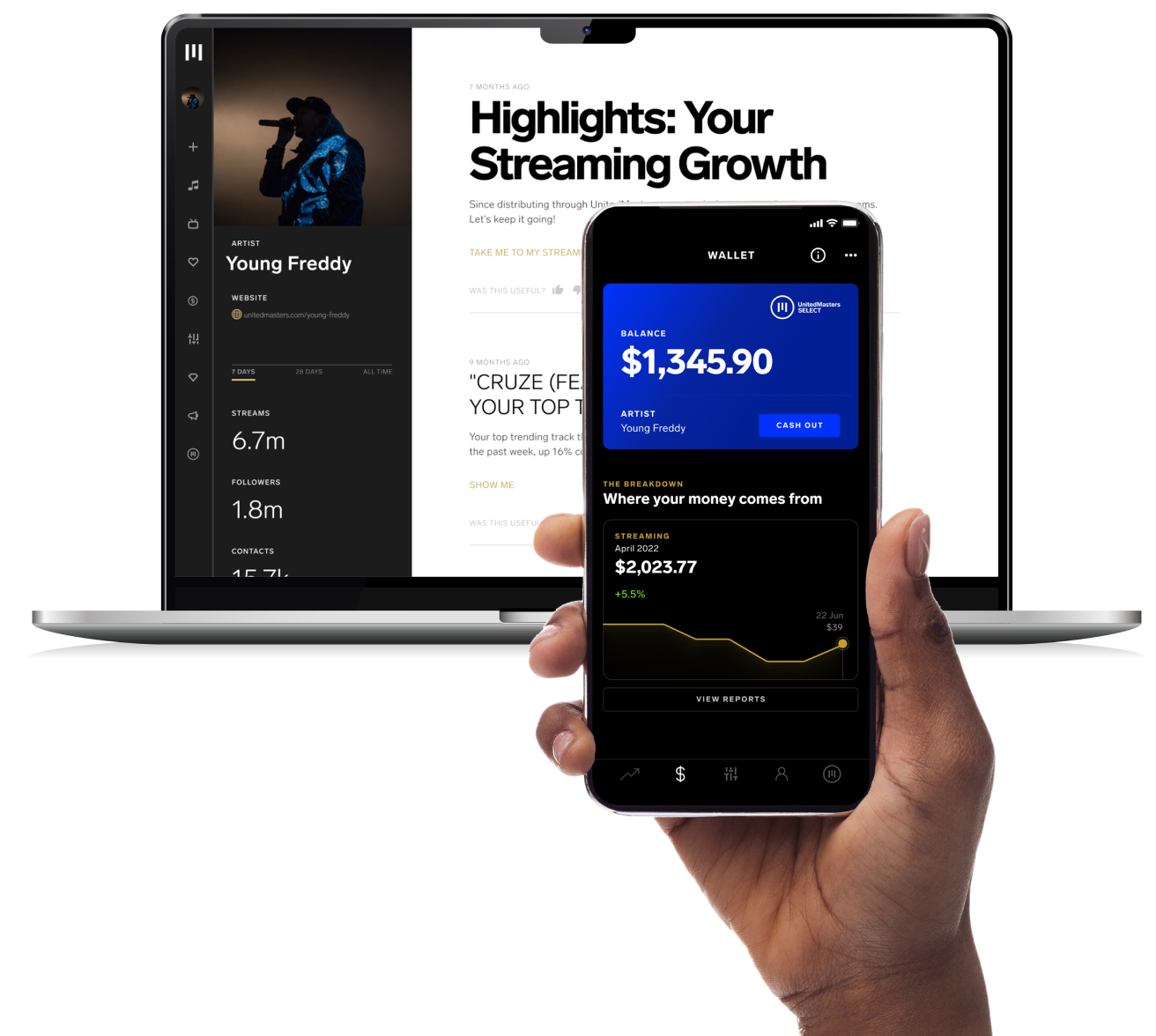 A record label in your pocket
Tap into all the tools you need on any device. Sign up now to release songs, apply for Exclusive brand & sync deals, manage payouts, and more.

Split Music Streaming Royalties FAQs
Royalty splits refer to the division of earnings from the distribution of music among multiple owners, such as producers, songwriters, and performers. UnitedMasters allows artists to set up royalty splits easily through the Split Pay tool, ensuring that everyone gets paid accurately and transparently.
UnitedMasters' Split Pay tool allows artists to set up royalty splits for their music by designating a percentage of the earnings to each owner. Once the music is distributed, UnitedMasters handles the collection of revenue and the distribution of payments to each owner based on the agreed-upon split.
HOW DO I SET UP ROYALTY SPLITS FOR MY MUSIC?
There are two ways to set up splits on your tracks in UnitedMasters:
New Releases
When drafting a new release, you can add collaborators to any track you've created. Simply add collaborators to each track in the 'Split Pay' section and assign them a percentage share. By default, you always start with 100%.
Distributed Releases
If you've already distributed a release, you can set up splits for it by heading the release details in your UnitedMasters account. From there you can edit the existing splits (you'll be listed with 100% share if you haven't added anyone yet). Once all shares add up to 100%, you'll be able to save.
CAN I CHANGE THE ROYALTY SPLITS AFTER THE RELEASE IS LIVE?
As the release owner, you can make changes to splits at any time. Any existing collaborators will receive an email informing them of the update if their shares have changed at all.
Any new collaborators you add will receive an email invite to get set up.
HOW DOES SPLIT PAY ENSURE THAT EVERYONE GETS PAID ACCURATELY?
UnitedMasters' Split Pay tool is designed to ensure that everyone gets paid accurately and transparently. The tool tracks all revenue generated by the music and automatically distributes payments to each owner based on the agreed-upon split.
CAN I SPLIT ROYALTIES WITH SOMEONE WHO IS NOT ON UNITEDMASTERS?
No, UnitedMasters' Split Pay tool is only available for owners who have a UnitedMasters account. If someone is not on UnitedMasters, they will need to create an account to participate in the royalty splits.
WHAT HAPPENS IF ONE OF THE SPLIT OWNERS DOESN'T HAVE A UNITEDMASTERS ACCOUNT?
If one of the split owners doesn't have a UnitedMasters account, they will need to create one to participate in the royalty splits. UnitedMasters' customer service team can provide guidance and support to help owners create an account and set up the necessary splits.
CAN I SPLIT ROYALTIES DIFFERENTLY FOR DIFFERENT TERRITORIES?
Yes, UnitedMasters allows artists to set up different royalty splits for different territories. This can be useful for owners who have different rights in different regions or who have different arrangements with owners in different territories.
HOW OFTEN ARE ROYALTIES PAID OUT?
UnitedMasters pays out royalties on a monthly basis, and owners can access their payment statements through the UnitedMasters platform.
HOW DO I ACCESS MY ROYALTY STATEMENTS AND PAYMENTS?
Owners can access their royalty statements and payments through the UnitedMasters app or website. Simply log in to your account, and you can view your earnings, track your music's performance, and manage your royalty splits.