Get unlimited music distribution with UnitedMasters SELECT
Distribute your songs to major streaming platforms in as little as two business days. With SELECT, you can release as much music as you want and never have to pay per release.

UnitedMasters is a new industry alternative for independent artists. We make it easy for you to get your music on streaming platforms and digital stores so you can keep ownership of your masters and get paid for your work. Here's how you get started: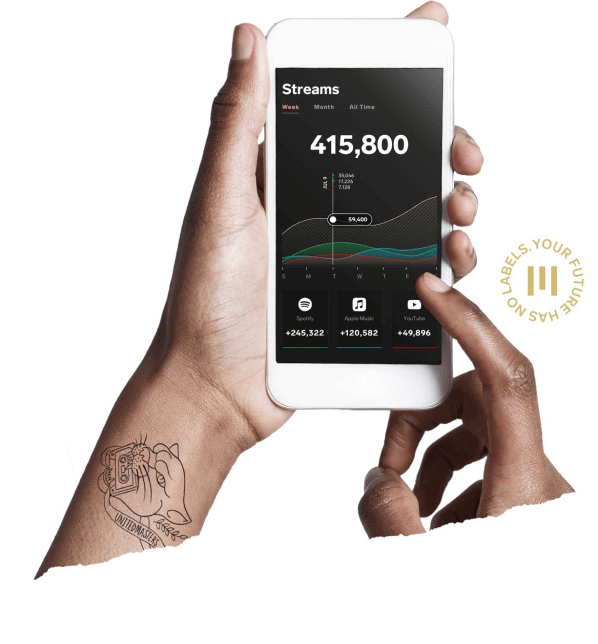 Upload your audio, artwork, and release details. Add collaborators if you want to split royalties with anyone.
UnitedMasters will send your release to streaming services and social platforms worldwide. Releases go live in as little as two business days.
Track your streaming revenue and get real-time payouts. Access in-depth analytics to help drive your business.
Unlimited Music Distribution
Release music on major streaming services and social platforms. We'll get your tracks on Spotify, Apple Music, Pandora, Amazon, YouTube, Instagram, TikTok & many more in as little as 2 business days. Track your streams with advanced analytics in the app & reach new fans from around the world with SELECT promotional tools.





Why limit yourself by paying per release?
Feed your fanbase without breaking the bank with unlimited distribution to streaming and social platforms. With UnitedMasters SELECT, you can drop music wherever, whenever with no limitations or hidden fees.
Unlimited music distribution to 35+ digital platforms & physical stores worldwide
Submit your tracks for sync licensing, playlisting, and other promotional opportunities
No hidden fees or release limits
Releases go live in as little as 2 business days
JOIN A COMMUNITY OF 1.5+ MILLION ARTISTS MASTERING THEIR INDEPENDENCE.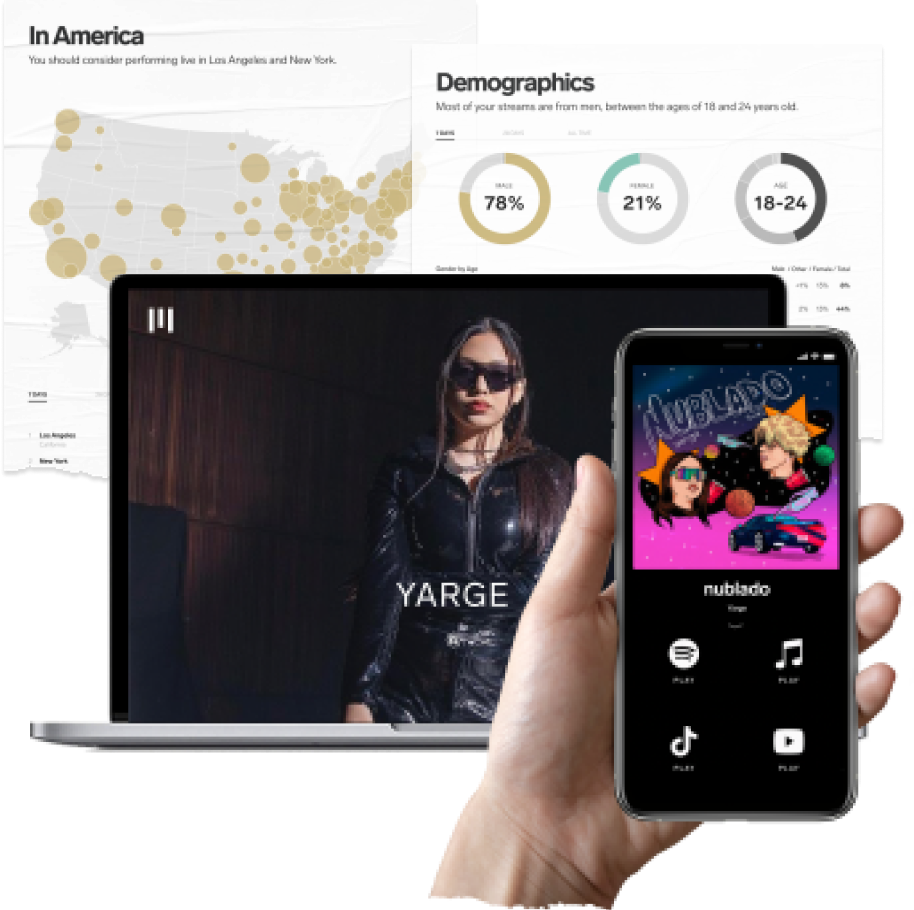 Upload your music to top streaming platforms with no limits
Release as much music as you want, when you want, to major streaming platforms – and track your performance with advanced analytics.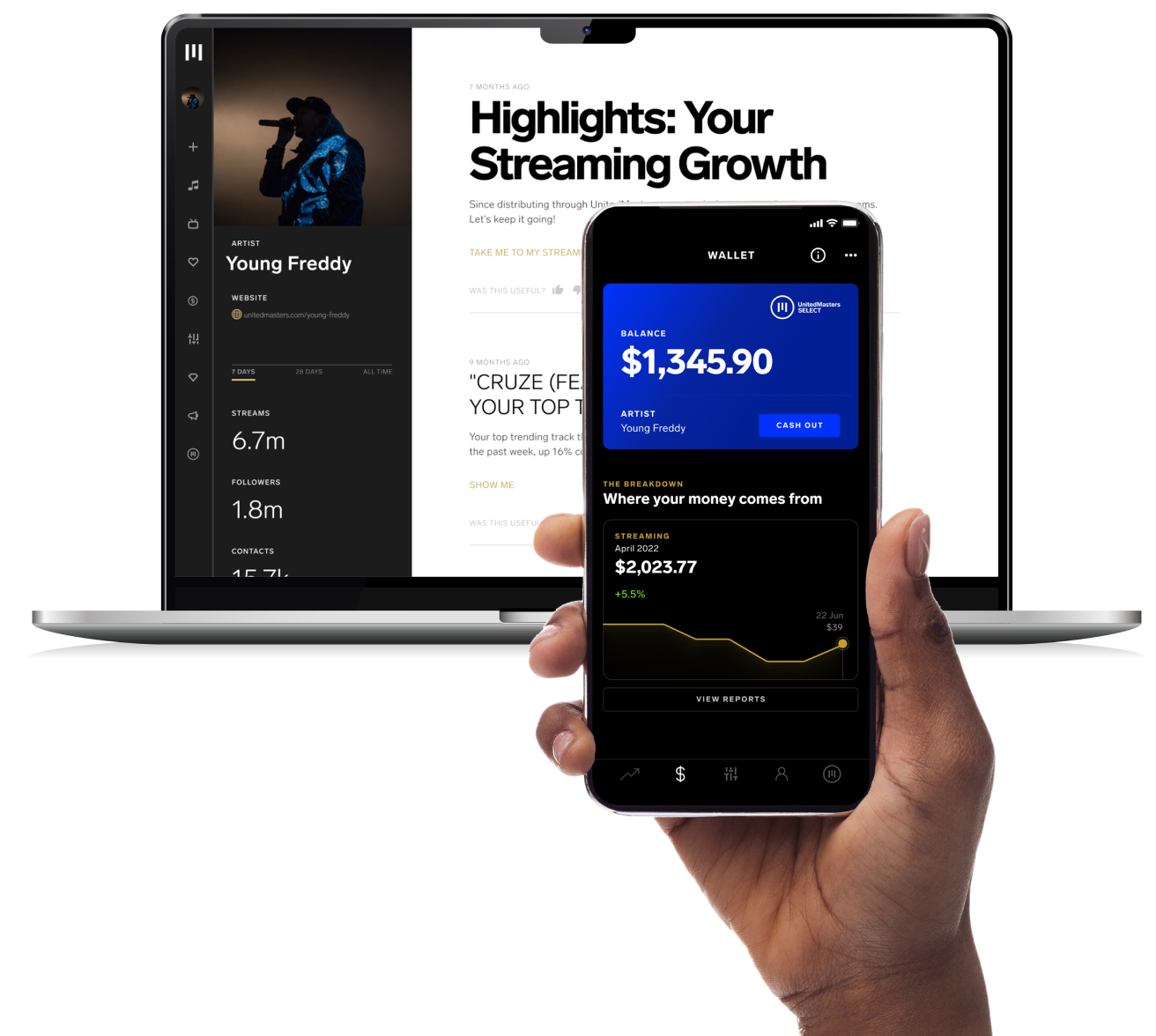 A record label in your pocket
Tap into all the tools you need on any device. Sign up now to release songs, apply for Exclusive brand & sync deals, manage payouts, and more.

UNLIMITED MUSIC DISTRIBUTION FAQs
WHAT IS INDEPENDENT MUSIC DISTRIBUTION?
Independent music distribution refers to the process of distributing and promoting music by independent artists, labels, and musicians without the support of a major record label. In other words, it's a way for independent artists to get their music heard by a wider audience through various channels such as streaming platforms, physical distribution, and digital downloads.
Music distribution companies like UnitedMasters offer services that include digital distribution to popular streaming services like Spotify and Apple Music, and marketing and promotion support to help independent artists reach new audiences.
HOW DOES INDEPENDENT MUSIC DISTRIBUTION WORK?
Independent distribution typically involves signing up with a music distribution company like UnitedMasters, which specializes in helping independent artists distribute and monetize their music. Here's how it works:
1. Sign up for UnitedMasters SELECT for unlimited distribution to streaming platforms
2. Upload your music: Once you've signed up, you'll need to upload your music to the distribution company's platform. This usually involves uploading high-quality audio files along with cover art and other metadata.
3. Choose your distribution channels: Next, you'll need to choose which distribution channels you want to use to distribute your music. This could include streaming platforms like Spotify and Apple Music, or social media platforms like TikTok, Instagram and Facebook.
4. Set your release date: You'll need to set a release date for your music so that it can be scheduled for distribution to the various channels you've selected.
5. Promote your music: Once your music is released, you'll need to promote it to attract listeners and grow your fan base. UnitedMasters offers various marketing and promotion tools to help you do this, including social media promotion, playlist pitching, and performance opportunities.
6. Collect your earnings: Finally, you'll need to collect your earnings from the various channels where your music is being distributed. UnitedMasters offers transparent and easy-to-understand earnings reports, as well as various ways to receive your payouts.
In summary, independent music distribution involves signing up with a distribution company like UnitedMasters, uploading your music, choosing your distribution channels, setting a release date, promoting your music, and collecting your earnings. By leveraging the services of a distribution company, independent artists can distribute and monetize their music on a global scale, while still retaining ownership and control over their music.
WHAT ARE THE BENEFITS OF INDEPENDENT MUSIC DISTRIBUTION?
Greater control and ownership: Independent music distribution allows artists to retain greater control and ownership over their music. They can choose which distribution channels to use, set their own pricing, and maintain creative control over their work.
Increased exposure: Independent music distribution offers artists the opportunity to reach a wider audience by distributing their music on popular streaming services and other platforms. This can help them attract new fans and build a following.
Faster distribution: Independent music distribution platforms like UnitedMasters offer faster distribution times, allowing artists to get their music out to listeners more quickly than through traditional record labels.
Cost-effective: Independent music distribution is often more cost-effective than traditional record label deals. Artists can pay a flat fee or a percentage of their earnings to the distribution company, rather than giving up a percentage of ownership or control over their music.
Access to data and analytics: Independent music distribution companies provide artists with detailed data and analytics about their music, including how many streams their music is getting, where their listeners are located, and other important metrics. This information can help artists make more informed decisions about their music and their career.
Opportunity for growth: By leveraging independent music distribution services, artists can grow their fan base and reach new audiences, which can lead to more opportunities for live performances, merchandising, and other revenue streams.
HOW DO I DISTRIBUTE MY MUSIC WITH UNITEDMASTERS?
UnitedMasters makes it easy to release music from anywhere in the world.
Step 1: Sign up for UnitedMasters SELECT. You can do this by visiting our website and creating an account.
Step 2: Upload your music. Once you've signed up, you can easily upload your songs or albums through our user-friendly platform. We accept all major audio file formats, and our system will guide you through the upload process.
Step 3: Customize your release. You'll be prompted to provide metadata for your music, such as the artist name, song title, genre, and more. You can also upload your artwork and choose your release date.
Step 4: Choose your distribution options. With UnitedMasters SELECT, you have the option to distribute your music to all major streaming platforms, including Spotify, Apple Music, and more. You can also choose to distribute your music to specific territories or opt out of certain platforms if you prefer. Split royalties with collaborators using Split Pay.
Step 5: Review and submit. Once you've completed all of the necessary steps, review your release information and submit it for distribution. Our team will then handle the rest, ensuring that your music is delivered to the appropriate streaming services in as little as 2 business days.
HOW MUCH DOES IT COST TO UPLOAD SONGS TO STREAMING PLATFORMS?
Unlike other distributors, UnitedMasters does not charge a fee per release. With the SELECT plan, artists get unlimited distribution for $59.99/year.
HOW DO I GET MY MUSIC ON SPOTIFY, APPLE MUSIC, AND OTHER STREAMING SERVICES?
Getting your music on popular streaming platforms like Spotify and Apple Music can be a daunting task, but it doesn't have to be. At UnitedMasters, we offer a simple and easy solution to help you get your music on these platforms and more.
Our SELECT plan provides you with unlimited distribution to all major streaming services, giving you the opportunity to reach a wider audience and increase your fan base. Plus, by signing up for UnitedMasters SELECT, you'll gain access to brand partnerships and sync deals, helping you to monetize your music in new and exciting ways.
And the best part? You can try it out for free! Sign up today and take advantage of our 14-day free trial. With UnitedMasters SELECT, you can focus on what matters most - creating and sharing your music with the world - while we handle the distribution logistics for you.
CAN UNITEDMASTERS GET ME AN ARTIST ADVANCE?
Yes, UnitedMasters gives qualified artists the option to apply for advances through BeatBread. BeatBread is a music platform that provides advances and royalties to independent artists - it is designed to help artists monetize their music and build their careers by giving them access to funding and other industry resources.
CAN I TRANSFER MY RELEASES TO UNITEDMASTERS FROM ANOTHER DISTRIBUTOR?
Absolutely - the first step is understanding if you're under any agreements that prevent you from moving your catalog to UnitedMasters. Assuming that you are not restricted, you will need to prepare your catalog to manually upload it to your UnitedMasters account. Once your catalog is prepared, you'll want to set up your releases as "drafts" to minimize any lapse in your digital presence. Be sure to follow the instructions here to transfer stream counts, set release dates for your drafts, submit your release(s) for approval, and request your previous distributor to remove their version of the release(s).